Are Your Managers Halting or Helping for Women's Development?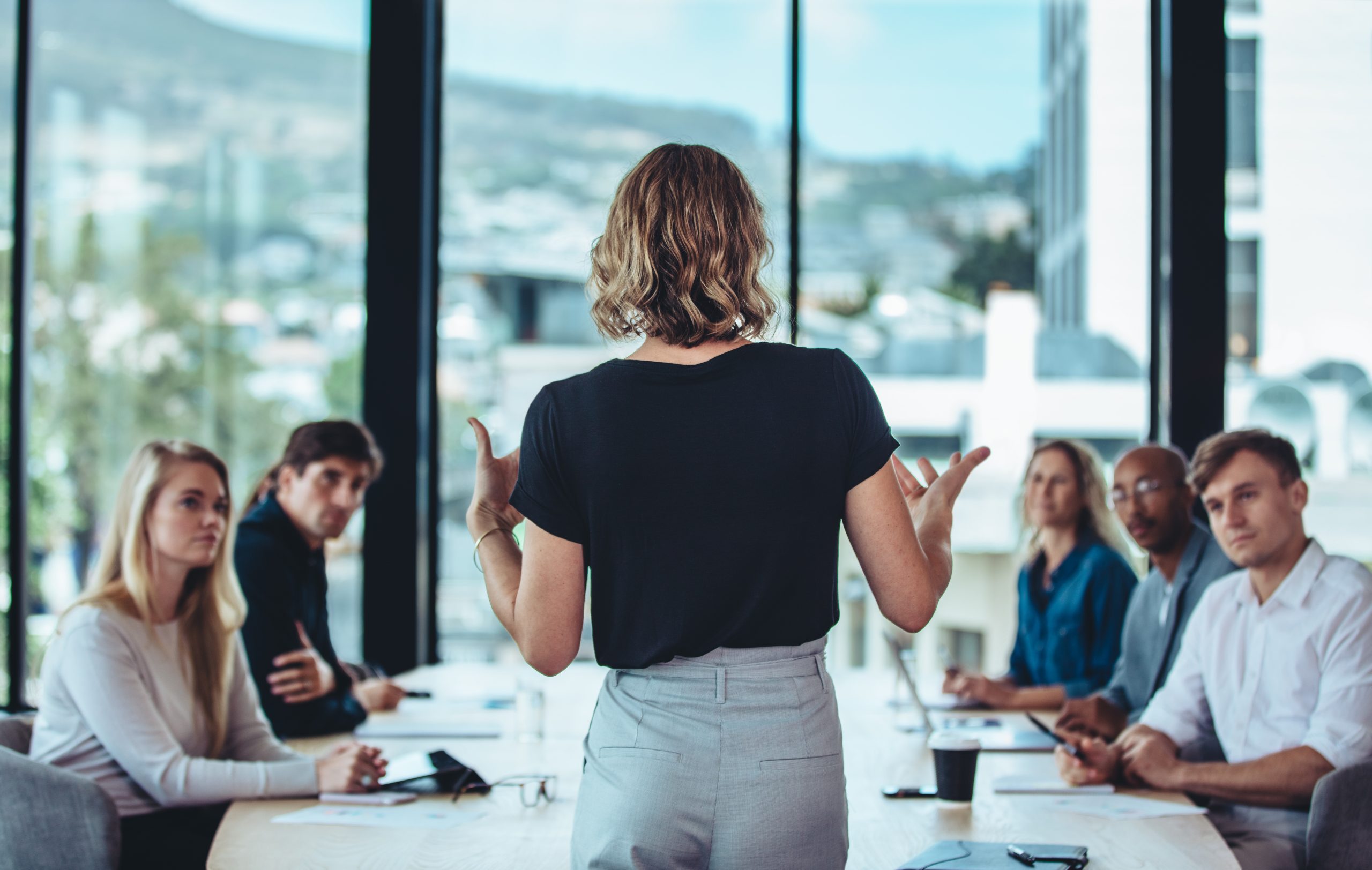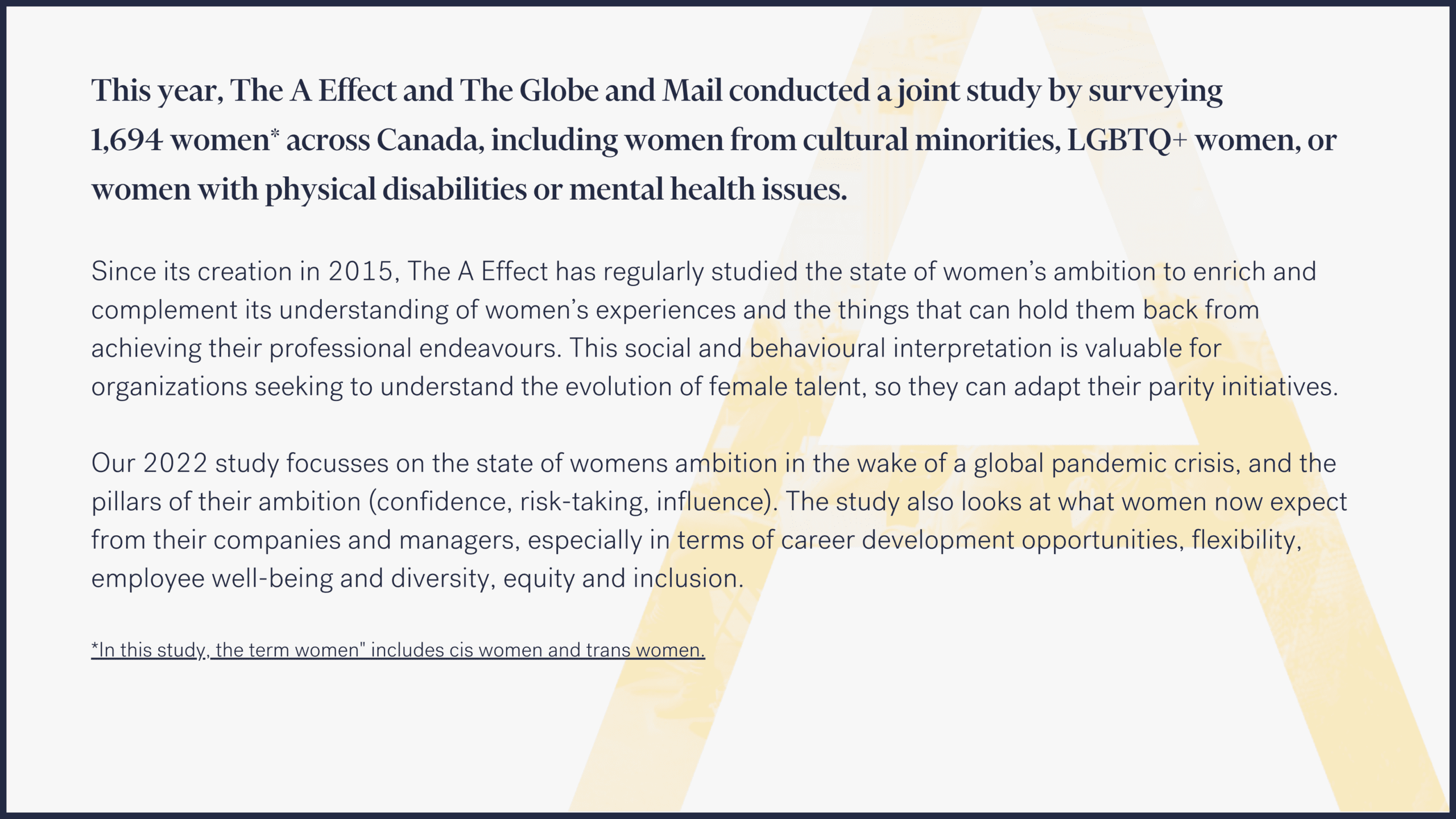 Do you support your female talents?
The leaders of The A Effect tell us: attracting, retaining, and developing the best talent remain at the top of the list of challenges facing corporate managers in the coming months. However, once these talents are in place, they still need to feel supported in their development.
The A Effect and The Globe and Mail study highlights how important immediate superiors and the company are to women's professional development. According to the survey, women's ambition is strongly correlated to the perception of their direct superior: 74% of highly ambitious women say they're inspired by their supervisor, compared to only 46% of women who say they are not ambitious. And 16% of Canadian women consider leaving their job because of their immediate boss. Worse still, according to a McKinsey study, less than half of women say their boss is interested in their career and helps them manage their workload.
The A Effect has guided thousands of women since its creation in 2015.
In the Ambition Challenge, each participant is tasked with taking up a challenge of her own choosing by the end of the program. This simple but effective strategy pushes participants to get out of their comfort zone and take calculated risks. The benefits of challenging ourselves are well-known: improved self-confidence, learning from success and failure, and more. 
It's worth noting that most of the women who took up their challenge said that they had received great support from their company or managers. However, of the participants who didn't succeed in completing their challenge at the end of the program, only 53% said they felt supported… 
The role of managers and the organization's support system are fundamental in building trust that can unlock the full potential of talents. So, for women to deploy their ambition and bring all their potential to their employer, how can we make them feel supported?
Defy Unconscious Bias
Ensuring the development of all talents is crucial in the current context of talent shortage. But women face a very specific reality: their ambition is perceived differently from that of men. And why is this? Unconscious biases. And the more we talk about those biases, the more we'll be able to put safeguards in place to guard against it. Here are several resources to share with your teams.
From the outset, The A Effect has been writing on the topic of biases and shedding light on them, including interview bias or "manterrupting", when a woman is unnecessarily interrupted by a male colleague. Accordingly, preconceived notions about female ambition are responsible for many women being held back. Although a man's success tends to increase his likeability, the same success appears suspect when it involves a woman. This bias is often unconscious, but this doesn't lessen its impact on the decision to hire or promote a woman. 
While unconscious biases are not synonymous with bad intentions, they do take their toll. So, to counteract them, ask yourself: Am I inclined to "judge" talent by gender? Do I have a consistent reaction to a decisive attitude? Are my evaluation criteria objective and fair in terms of how I perceive a man's or woman's performance?
Managers Who Inspire, By Listening
Other seemingly small actions have a big impact. Managers can give women a voice in meetings, or better divide the mental load in the office (taking notes in meetings, organizing events, training new employees, etc.). These "services" – unevenly distributed – do not serve women, nor does the image of being someone's "right hand", which perpetuates an outdated way of perceiving the division of labour.
While men tend to attribute their merit to their qualities and skills, women relate it more to external factors (work, luck, opportunity). You can rebalance the scale of merit by fairly crediting the success of an action. This way, women will get equal recognition for their achievements. 
So, to help your team leaders inspire the talent in your company, we're sharing an exercise with you. In the Leadership Challenge, The A Effect's program for women managers, one of the themes is courage: the courage to ask for feedback from your team, to receive it, and the courage to give it. To that end, here are some good practices you can share with people interested in inspiring female talent in their teams:
Choose the right moment: Are the planned timing and duration of the feedback appropriate, as much for me as for the other person?
Use the right medium: Is the method of communication (meeting, email, call, videoconference, etc.) effective and appropriate, as much for me as for the other person?
Define the objective: Do I know why it's important to give this feedback and what impact is desired?
Ensure clarity and accuracy of information: Do I know exactly what I want to say and the key messages to convey in this feedback? Do I need to check any facts?
Prepare for the meeting: Do I need to plan time to rehearse what I want to say, either to choose my words carefully, avoid getting carried away, or help me stay emotionally detached from the situation. 
Equip Managers to Manage the People of Tomorrow
After two difficult years, expectations of managers have become more complex, but their role is more important than ever in supporting efforts to attract and develop talent. Managers need to foster employee well-being and advancement, promote inclusion within their teams, and do so in a hybrid work setting. What are you doing to respond to this new reality?