Odrée Ducharme: Transforming Your Career and Your Organization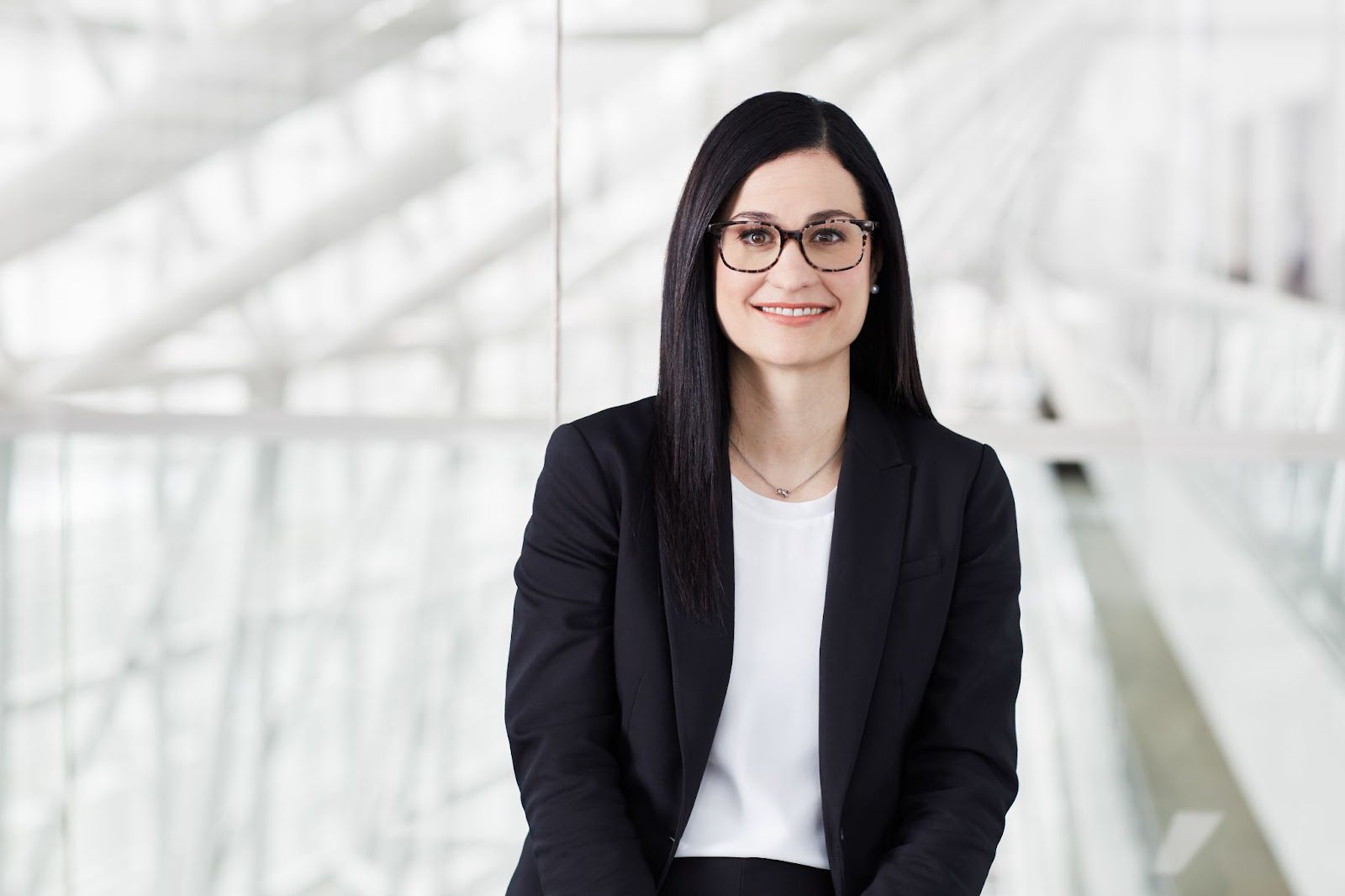 After completing The A Effect program, many graduates contribute to the evolution of their workplace. In 2015, during the first cohort of the Défi 100 jours (French equivalent of the Ambition Challenge), no one yet imagined all that the graduates of The A Effect would go on to accomplish.
Odrée Ducharme, who was 17 years into her career at the Caisse de dépôt et placement du Québec (CDPQ), was part of this first cohort. Today, as Managing Director, Strategy and Execution, Fund Investments and External Managers, she reflects on the full significance of the program for her professional journey and in her priorities as a manager. "The A Effect changed how I experienced my career," she insists.
A Transformative Invitation
Prior to 2015, Odrée rarely questioned the number of women in finance. "I was often the only woman at meetings, but that was my reality," she explains. Then, the CDPQ sponsored her: she joined the group of 20 women and Isabelle Hudon, co-founder of The A Effect as well as then-head of Sun Life for Quebec region, to take up the Ambition Challenge in French.
Demonstrating to your talent that you believe in them is a competitive advantage. Since the traditional way of managing resources is not for everyone, training like this is a tool that organizations should consider to accommodate the diversity of their talent.
Odrée Ducharme, Managing Director, Strategy and Execution, Fund Investments and External Managers, Caisse de dépôt et placement du Québec
Very quickly, her understanding of the situation took a 180-degree turn. "While there is little gender diversity in the investing world, it isn't because women are not interested," she observes. In discussing with other participants with similar backgrounds, she realized that the lack of diversity in her industry was not "a necessary evil".
Above all, her journey has led her to state her ambition and seize the opportunities that come her way. "Soon after, I got a promotion that reflected the fact that I had asked for more projects and expressed my desire to be promoted," Odrée recalls. Three is the exact number of times she has moved up the ladder at the Caisse since then.
Telling Your Story to Inspire Others
The program experience also convinced the seasoned manager to reach out to students. "I used to have imposter syndrome and I didn't see how my story would be of interest to the next generation," she says, "but after The A Effect, I was eager to talk about my journey to young people, especially to young women".
Since then, she considers these moments to be essential for the evolution of what has traditionally been a male-dominated financial sector. In her view, the Ambition Challenge paved the way for her to get involved in diversity issues: she wanted to take action, to create a snowball effect in her industry.
"An organization becomes more diverse by having more women who raise their hands, who are aware of their ambitions and who see that it is possible to aspire to senior management positions," she explains. "And it's not just by recruiting more female graduates that things are changing", she adds. Indeed, Odrée believes that they must be convinced that they can "become trailblazers and then role models for other young people".
DEI, A Proven Approach… That Pays Off
Diversity is so much more than a recruitment tool: it's a logical financial choice, and the managing director's recent initiative is proof. In 2021, as part of the new Investment Funds and External Management team, she led the project to formally integrate end-to-end diversity, equity and inclusion (DEI) assessment into the Fund's external management investment process.
Studies show that having heterogeneous teams creates value in the long term. "Diversifying your portfolio is a well-known investment principle, so it goes without saying that you should also diversify your risk-takers. We're convinced that this leads to better decisions in finance," Odrée explains.
With DEI now included in the score given by external managers, the CDPQ is optimizing its processes while changing the face of the sector. And it's not just rhetoric. "Firms know they'll be questioned and they don't want to be at the same level as a year ago," says Odrée. "With this structured commitment, we hope to help our industry evolve."
Influencing a Whole Profession
In addition to her contributions to the Caisse, this graduate of the first Défi 100 jours is active in her professional association, CFA Montréal. In 2015, she was invited to join a new committee, Women in Investment. Discussions about diversity have already taken place, which is not a common occurrence in the CFA Institute's 160 or so other chapters.
Odrée soon became a member of the association's board of directors and was elected president in 2021. Under her leadership, CFA Montreal ensures diversity among its officers and volunteer committee members. "We know that women don't necessarily speak up right away, so we go to them directly, to propose getting involved in our various committees," she says.
And that's not all! In March 2022, in collaboration with the new executive director, she led the association to the signing of the Diversity, Equity, and Inclusion Code for the Investment Profession, an initiative of the CFA Institute. "We are continuing to stand out on these issues," she concludes, highlighting that the association in Montreal was among the first to become signatories.
Odrée Ducharme reiterates: her development, her decisions, her involvement over the past seven years… are all connected to The A Effect. "It opened my mind to parity and diversity, and I made these a priority," she confirms. The program's lessons have stayed with her. But most of all, she recalls that her managers had great confidence in her potential.