Collaboration: A Company Value Worth Cultivating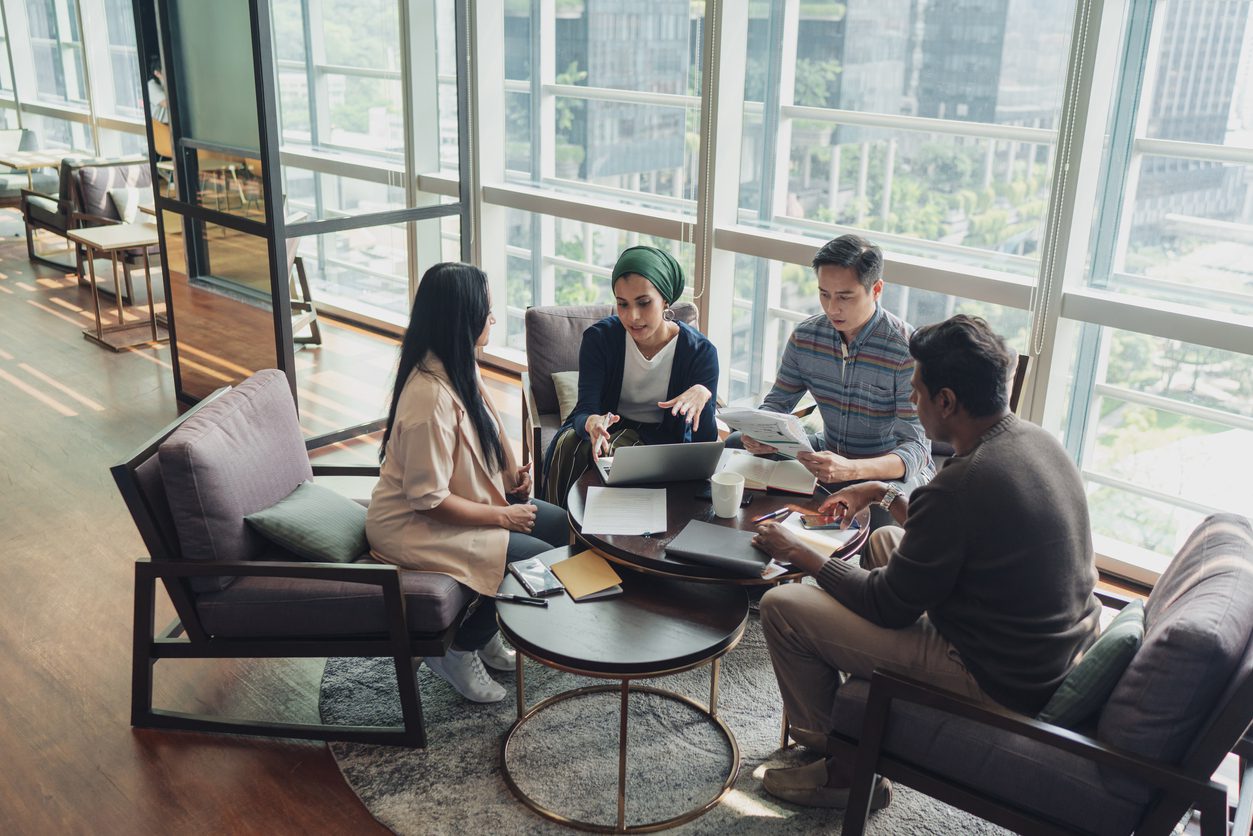 At a time when the world of work is undergoing major upheaval, our professional settings are evolving and adapting to new realities. While many are inspired by agile-type methodologies that are no longer only for the tech industry or creative companies in search of optimal operational and personnel practices, organizations are starting to actively value collaboration.
How does this play out in your circle? Let us explain.
From Innovation to Satisfaction
Companies that best meet their objectives are ones that cultivate a collaborative culture. At The A Effect, this is defined as follows: "A collaborative culture is one where cooperation between employees is intentional and recurrent. It is present in the processes and does not depend on being initiated by anyone. In other words, collaboration is an embedded value of the company and dictates how it operates. This kind of organizational culture allows companies to grow by emphasizing collective rather than individual intelligence, and it promotes innovation."
This way of innovating is especially fruitful because of the pooling of efforts that leads to global solutions. Professionals attested to this in a study conducted by Steelcase, in which 90% of respondents felt that collaboration was essential for generating new and better ideas. Their managers agreed, with 93% considering that this was a necessary approach for successfully bringing ideas to life.
A strength-in-numbers philosophy really pays off. According to the Asana's 2023 Anatomy of Work Global Index, organizations with strong collaborative cultures are more likely to achieve greater growth in revenue. Research from Stanford University even highlights that collaborative work leads to a 50% increase in employee efficiency in completing tasks, in addition to boosting their commitment and motivation.
Improved productivity, a more committed staff, and better employee retention is the ne plus ultra for business. However, collaboration doesn't just benefit teams and their organizations. The professionals who collaborate improve their ability to express themselves, increase their visibility and self-confidence, and strengthen their passion and professional satisfaction.
Paving the Way for Collaborative Culture
To make collaboration more than just a nice idea for your company, it's essential to develop a culture where collaboration is at the heart of everything. Here are a few ways to identify and tackle the obstacles that could stop you from achieving your professional goals and those of your organization.
Obstacle #1: Individuality
Believing that it's everyone for themselves at work is incompatible with achieving collective goals. An employee could be inclined to think that their individual contribution is sufficient, or have been taught that they are expected to work alone to solve problems. Some may avoid coming forward for fear of being a fraud, of having their mistakes exposed, or of being judged.
Countering this kind of attitude means aiming to create an environment where idea exchange, information sharing, and equal participation are valued. A welcoming environment where trust prevails will help foster relationship building and the establishment of an inclusive workplace climate. To encourage cooperation, the person in charge can specify which colleagues to consult for a project, and make sure to mention them to each team throughout the mandate's various phases of development.
In leadership, delegating is another way of strengthening trust between colleagues. Explaining to someone why a task has been given to them invites them to make improvements and share their opinion, thus taking part in increasing their own visibility.
Obstacle #2: Communication
Collaboration is compromised when team members don't feel that they can communicate openly, or if there is no space to express their ideas. Employees for whom expectations are not clear will also have trouble collaborating.
To remedy this, it's important to rally around a shared vision. For example, collective project teams can be created or discussion groups can be established where idea exchange is the priority and clear understanding of the various mandates is ensured. It's also essential to clearly establish the various channels of communication, whether that means tools used daily, or opportunities for one-off discussions. Instituting norms makes smooth information exchange possible.
Obstacle #3: Competition
Many of us have had to work with someone who seemed threatened by their peers. This kind of attitude leads to being reluctant to share information and ideas, wrongly believing that helping others can hurt their own chances of success.
As the old saying goes, healthy competition is a good thing. Why not channel this energy differently? "One of the main differences between collaboration and competition is that in collaboration, individuals or groups work together towards a common goal, while in competition, individuals or groups work against each other to achieve their own goals," explains an article published on LinkedIn.
Integrating the sharing of responsibilities re-establishes confidence in everyone's abilities, along with fostering connections between colleagues. With this kind of model, collaboration is placed in a positive light, which is then recognized or assessed during an evaluation. This way, rather than only highlighting results, those who are the most collaborative within the company get acknowledged.
Obstacle #4: Space
Design is trending in our work environment, and not without good reason. A space can be a powerful tool for collaboration when it is well though-out to encourage interactions between all levels in the hierarchy and foster movement, and when it is organized to make sure that a variety of tasks can be accomplished. However, not all companies are able to adapt their workspaces, due to lack of space or means, or when remote work is less suitable.
Nevertheless, all companies can easily make use of collaborative tools. These tools help team members communicate, enter information, meet, share, and contribute to generating deliverables, supports, and even more! Using good, well-adapted tools will not only increase productivity, the spontaneous aspect of these platforms can even boost morale. These technologies make many things simpler, to such an extent that a study done by Alfresco revealed that 83% of the professionals surveyed claimed to depend on virtual tools for collaboration, while 82% said that it would negatively impact them to lose these tools.
Obstacle #5: Example
In good times as in bad, managers show the way and are duty-bound to act as representative of organizational culture. Indeed, as leaders, they must embody the culture they wish to see flourishing in the company. "[…] we found that the perceived behavior of senior executives plays a significant role in determining how cooperative teams are prepared to be," notes the Harvard Business Review.
To build a collaborative culture, collaborative leaders from whom employees can draw inspiration must be brought into the company and developed. This is also a good time to model behaviours that aim to facilitate everyone's participation in the company's practices, from recruitment to career advancement.
There are many resources available for ensuring a smooth transition towards collaborative culture in a company that reflects your values. Despite all the benefits, opting for collaboration doesn't necessarily mean choosing the easy path. However, it does lead us to forge connections and to better understand ourselves and our colleagues, and, above all, it makes work more pleasant on a daily basis.