Taking Your Place with Confidence: 7 Questions for Olga Farman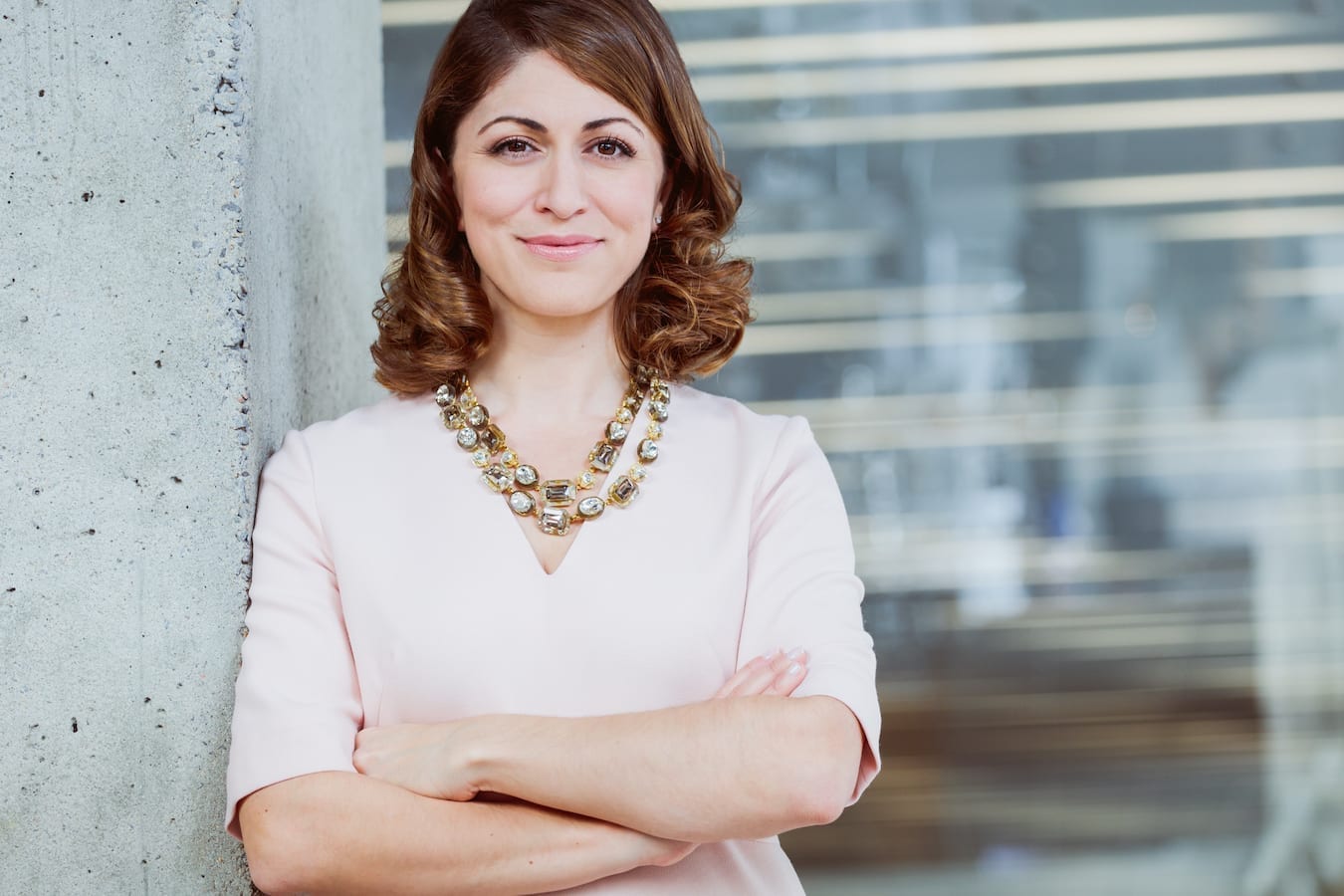 From the minute she found out she would be Managing Partner in the Quebec City office of Norton Rose Fulbright, one of the biggest law firms in the world, Olga Farman thought of her parents, an immense sense of pride washing over her. Pride because they're her "number one fans" and because the fact that she achieved this promotion by age 38 is in large part thanks to them.
In the 1960s, her mother and father left Iran to settle in Rivière-du-Loup. Their greatest hope: offer better opportunities to their future children. In doing this, they passed on character-forging values to their two daughters. Integrity and solidarity, but especially "the will to make a difference", explains the young woman for whom this guiding principle has become a kind of personal mission.
The Ambition Challenge leader takes this will on with courage, energy, and confidence. A confidence that is not unrelated to her career success. 
Olga, how did the people in your network view your appointment?
As a good thing! I think they saw this as a logical next step. It's no secret that I've always had the ambition to move up, and I've worked hard to achieve it. Before accepting this appointment, my main concern was having the support of the associates in the Quebec City office. It's with their backing that I'm able to successfully run our firm. Obviously, my family's reaction was also very important to me.
What I learned from this period in my life, is that reaching this kind of position, with everything it entails, can't be done unless your colleagues, family, and spouse accept the decision. The support of our network directly impacts our confidence when the time comes to rise to new challenges.
And how did you react when you heard the news?
I felt very humbled, considering how excellent and thorough my colleagues are. I was convinced I could make a difference and was sure I had the skills and talent to take on this responsibility. It's a little mind-boggling, but it motivates me every day. I learned to challenge myself when I was very young, by participating in public speaking competitions. Getting out of my comfort zone and taking risks has become a way of life. Experiencing a setback doesn't trigger total collapse. On the contrary, it makes us stronger.
Playing a part in the destiny of one of the largest firms in Canada, at my age, is a dizzying feeling that makes me smile, not retreat.
How have you managed to create and secure a place for yourself?
Our parents did everything so my sister and I would be no different from our peers. But we were anyway. And when you're different and want to succeed in life, you have to become strategic and really understand your environment. How do companies operate? Which leaders and individuals would be good allies? This approach allows me to confidently make a place for myself with each new mandate.
Strategy plays a part, but self-confidence helps to enhance a reputation, doesn't it?
Of course. And the advantage of self-confidence is that it can be developed. To do this, you have to fight your fears, dare to tackle challenges, and resist the urge to fade into the background.
How?
By knowing how to put things in perspective. Falling down isn't a big deal. It happens to all of us! Our ego gets a little bruised, but it's important to know how to get back up, roll up our sleeves, and carry on.
Our network plays an important role in this. It can give us guidance, help us find our bearings, challenge us or reassure us about our choices. How others see things can put our actions and projects in a different light, and this feedback sustains us along with nurturing our self-confidence. We should never hesitate to seek out the support of our network.
Good self-confidence also allows us to avoid imposter syndrome, which you seem to have guarded yourself against.
I dealt with imposter syndrome at a young age. I had to choose between feeling like an "imposter" all my life or learning to accept myself as I am. I decided to go for it and be an integral part of society. After that, I wondered less and less if I belonged. It's true that I've had moments of doubt, but doubt is a good thing. Making sure we have the right goals and that we're using the right means to achieve them is healthy… as long as it doesn't hold us back.
In closing, what advice would you give to Ambition Challenge participants?
We are all unique, so I would tell them to be authentic and to accept themselves for who they are, their roots, their values, their beliefs, and their ambitions. I would also tell them not to feed into complexes or worry they won't please everyone. Go for it!
Follow us on Facebook and LinkedIn, and subscribe to our newsletter for all of the latest contents