Janet McFarland: Changing the Workforce for Women Through Journalism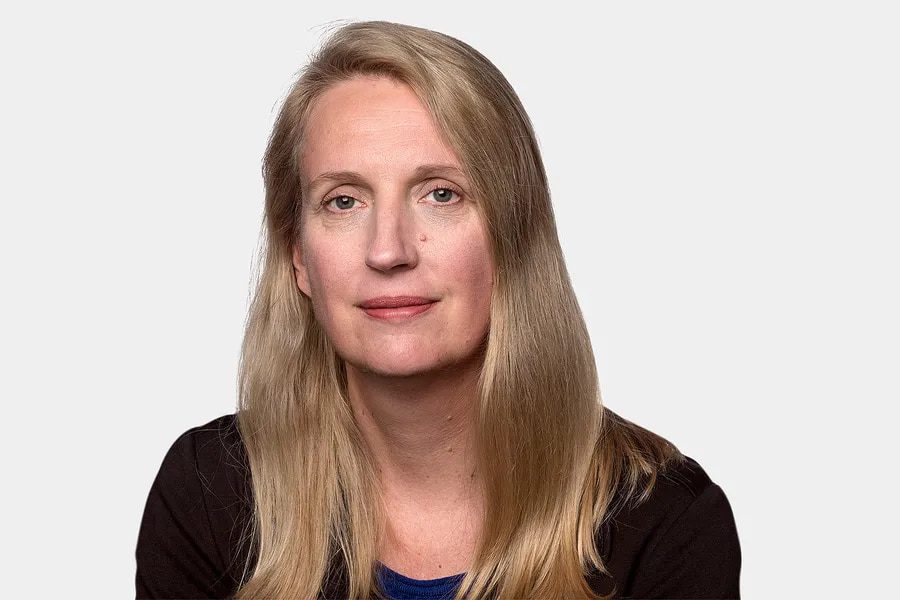 When Janet McFarland, Senior Editor at the Globe and Mail's Report on Business, talks about the reporters on her team, her admiration and respect for their skills and passion is evident. It comes through in both her tone and the words she uses. Her eyes even take on an added sparkle. McFarland's ability to amplify and promote the voices of others, a cornerstone of her leadership style, provides an impressive example of how we can all build greater equity in our workplaces.
A career dedicated to change the world
Three decades into her journalism career, McFarland's ambitious goal to uplift the collective has evolved, but never wavered. When it comes to wanting to change the world, there is no industry more prone to this kind of thinking than journalism. "Honestly, I was very idealistic when I started off," McFarland relates. "I definitely got into journalism, because I wanted to make a difference. I thought that good writers bringing forward issues in a compelling way could make people realize we have to change things."
And that's what she did. As a journalist, Janet McFarland's reporting put a special focus on public policy that could be changed, including topics related to women in leadership, executive compensation and regulation of the securities industry. Confirmation that her ambitions were actually moving the needle came in 2014, when she won The Landsberg Award celebrating Canadian journalists who raise awareness about gender equality and justice issues.
An honour, no doubt, bestowed in part because of McFarland's involvement in Board Games. Every year, the Globe and Mail and its partners at the University of Toronto mark and rank the corporate governance of Canada's largest companies. McFarland helped develop the questions and methodology, "One of the things that we did quite early on, at a point when this wasn't nearly as developed a topic, we added in questions about whether boards had any women and how many women they had. It was really important to me to put this in, because I thought it would help spur change." Each year, the Board Games team toughened criteria and added questions about persons of colour and indigenous people, as well as people with disabilities, making it more challenging for companies to get top marks. "Having managed Board Games now for 20 years, I think it's probably the thing that stands out for me the most, something that has helped to really move the needle because companies actually compete to be at the top of our ranking charts," McFarland adds.
A new role to inspire the industry newcomers
With a better understanding of how her efforts were truly impacting the lives of women and other minoritized groups in organizations, her ambitions grew. "I spent so many years making being a mom a really big priority. I didn't want to have a job that would keep me working late every day, which this job does. So I went to my boss and I said, 'I really feel like I have more time to devote to a more demanding job and I'd like to be in a job that's just a little bit more in the middle of things … not just me working by myself as a reporter.' He immediately offered me this job."
As a Senior Editor who oversees 10 reporters, McFarland is actively inspiring a new generation of journalists. Pride for her team is especially evident when she speaks of last year's coverage of the BlackNorth Initiative. A group of Report on Business journalists took a long look at Canada's biggest companies to see how many were successfully putting more people of colour into senior roles. "I'm so proud to have the reporters who worked on that," beams McFarland. "This is the way I feel I can personally have the biggest impact right now in the role I have–to help reporters get these things in the paper and think ambitiously about what they can write about."
Although great strides have been made, the battle for equity in the workplace is far from over. Janet McFarland is in it for the long haul: "I've worked my whole career at the Globe. I'm a business reporter by career and everybody I work with is a business reporter. In our area of coverage, it's especially important to have a woman in a more senior job like this. We do have women [in our department], but the fact of the matter is, there are more men than there are women. So hopefully, having somebody like myself will encourage [others]. If I can help bring [young women reporters] into the Globe, help them succeed and do the kinds of stories they want to do and … become long-term employees, that would just be the ultimate definition of success."
The Globe and Mail has evolved over the last 20 years thanks to a more diverse workforce able to tell more diverse stories. McFarland is committed to keep seeking new voices, because she has seen the positive results firsthand. "Now, when I interview young people applying for intern programs, I like to ask people why they're in journalism. And if they say something about how they think it would be fun, or they've always liked books and writing … okay, that's fine. But if somebody says, 'I want to change the world', it's like, yes, you, I understand you and your mindset."
Follow us on Facebook and LinkedIn, and subscribe to our newsletter for all of the latest content.